A spectacular issue of Esquire Romania is on its way. The best we did so far I believe (followed closely by #4). It's well-written and well-edited, hopefully offering something to every reader.
The cover of this special What I've Learned issue is graced by actor, director, writer and producer Florin Piersic Jr., a man who chose to go through life at his own pace – although many believe he went slow and failed to show any accomplishments thus far. In this story, I argue his time to shine has come.
Download the cover in PDF format.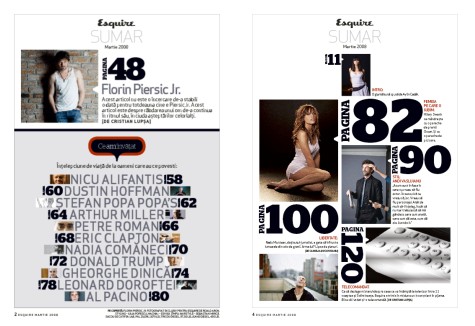 You can dowload the table of contents pages – seen above – here.
Other goodies in issue #6:
Wisdom and advice from the likes of Al Pacino, Petre Roman, Nadia Comăneci, Gheorghe Dinică, Dustin Hoffman and Leonard Doroftei.
A portrait of a journalist in prison.
A story on the generation of children left home by parents working abroad.
A stunning novella by award-winning author Philip Ó Ceallaigh.
Great fun with actor Andi Vasluianu.
An experiment involving watching television at night for one week. What's on at 3 AM?
And much much more – including Hilary Swank's long legs and tips on ordering a martini.
* Designed by the team of Raymond Bobar and Catalina Zlotea.
PS: Seen anything you liked in Esquire? Tell us via e-mail: esquire@sanomahearst.ro.