This is indeed turning into a food blog. Help!
Here are shots from the dumpling cook-off between Jo and Lavi. I call them gomboc, which is the Hungarian spelling of the lovely dumplings. Jo made papanasi (even though she inisted they are gomboc – they are not) out of yogurt and raisins, and she made them by adapting a recipe that involves boiling, not frying. Lavi made plum dumplings (szilvas gomboc) in which you take a plum, wrap it in potato dough (did I just make up that concept?) and then boil it. Both were lovely and tasty.

This is some lightly fried pesmet, or dried crust as the dictionary calls it. This is what both types of dumplings will be coated with once fried.

This is Jo's mixture of raisins and yogurt and a bunch of other stuff that brought the ingredients together.

The plums are waiting for Lavi.

Who in the meantime is boiling the potatoes.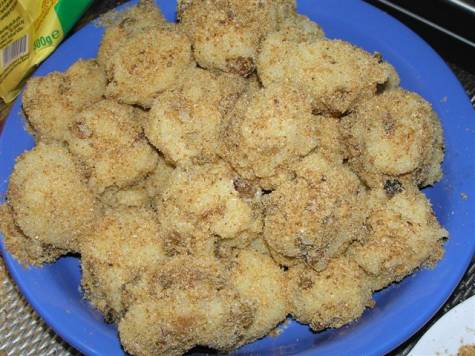 By then, Jo's beasts were already done.

Giving the potatoes taking a floury beating.

Eventually, the plum dumplings are ready as well.
Yumm!