"American Hardcore" is a documentary that tells the story of the early 80s Reagan years and the rebellion embodied by the hardcore punk movement led by bands like Bad Brains, Blag Flag or Minor Threat. The anger and frustration expressed was the protest outlet of kids who couldn't stomach the American normalcy endorsed by the Reagan regime.
Indie rock and indie pop are currently my own private form of hardcore. The past two decades have ushered in a truck load of irony, cynicism and sarcasm that gently slaughtered lyrical honesty in favor of metaphors. I went to see Tilly and the Wall last Wednesday night because they are a band that sings love songs. Not love songs with a twist. Not love songs with a sprinkle of defensive irony to protect themselves from people bullying the band. Just love songs–corny, clicheed, hummable, danceable love songs.
The Black Cat show in DC was the second time I got to see Tilly and the Wall. The first time they were the opening band to Of Montreal in a small wooden shack called MoJo's in Columbia, Mo. As they took the stage in the spring of 2005 I didn't know a thing about them. As they stepped down, I rushed over to the merchandise table to do something I only remember doing once since–buy their album. They were charming, energetic and beautiful. Almost everybody in the band contributed vocals and Jamie's percussion was done by tap dancing.
Tap dancing! There was this large metal cilinder on the stage and Jamie tapped her way through the show, creating sequences of pounces that rendered drumming irrelevant. "Wild like children" (2004) was an excellent album, anchored by show stoppers like "Reckless," "Fell down the stairs" and encore closer "Night of the living dead." As 2005 wrapped up, I was still hooked on the album.
The Black Cat show was part of the band's tour behind "Bottoms of Barrels" (2006), an equally poppy record featuring flamenco riffs on "Bad education" and a couple of stripped down near-acoustic gems such as "Love song" and "Coughing colors."
Pony Up! and Love is All were the opening bands and they were good. Pony Up! is a female foursome from Montreal (how many bands exist in that city?!?) that play soft tunes with a feisty grace. The great thing about watching small bands is getting to hear cover songs. Pony Up! covered "An honest mistake" by The Bravery and turned a dancing tune into a whispered plea. The bass player also rates a solid 3.5 out of 5 on the bass player hotness meter. She would have been a four were it not for the fact that she looked better just strumming the chords rather than jumping and moving around, which she did with a noticeable jolt of self-counsciousness.
Love is All is a big Swedish hit that goes all out in packing instruments on top of each other for a symphony of armonies topped by the Karen O-like screaming of Josephine. Love is All gear includes a sax and a cowbell, but the rhythm is almost entirely built on furios guitar riffs. This is the kind of Nordic band that goes takes the buzz it carries and runs with it for a 30 minute aggressive show and then bows out quickly. Get 'em while they are hot.
And then came Tilly and the Wall.
Those of you who have seen rock shows over the years know the paradigm of stage placement. Most bands are foursomes or threesomes and they created either a diamond on stage with the lead singer in front or a triangle with the guitar player(s) on par with the singer. Not Tilly and the Wall.
Because there is no drummer, there is no one in the back of the stage so everyone is pushed forward forming a line at the front of the stage. The band from Omaha, Nebraska is a five piece and at the Black Cat they had an extra guitar player accompanying them. What's so great about this band is that they are not one person's band with a bunch of back-up people adding to the experience. This is a unity!
Tilly ran through most of the songs on their two albums and created memorable moments that showcased their strenght. While Love is All pilled on all the sounds, Tilly layers them. The best example is "Lost girls" that starts acoustic. Then come Kianna's piercing vocals and Neely's backup humming. Jamie then adds percussion, Nick busts out the keyboards half way and by the end we're looking at a completely different song, but one that has progressed so naturally.
"Bad education" is the song that sounds most different live and that's because the album version packs a trumpet, a violin and an accordion. The band said the song is the most elaborate on "Bottoms of Barrels" and it definitely packs the punch and storytelling.
So is it really one hour of love songs? Well, yeah. That's pretty much what it is and it is awesome. The band made this statement of purpose clear in "The Ice Storm, The Big Gust and You," the closing track on "Wild Like Children."
No we won't be scared
No we won't back down
We will sing pretty songs about love
And we will fight if that's what it takes
And we won't back down
No we won't shut our eyes and go to sleep
We will write all over your walls
And we will dance to no music at all
We will do what it takes to get through to you
And yes, I admit it. Kianna Alarid is quite something (photo from Andrew Kendall).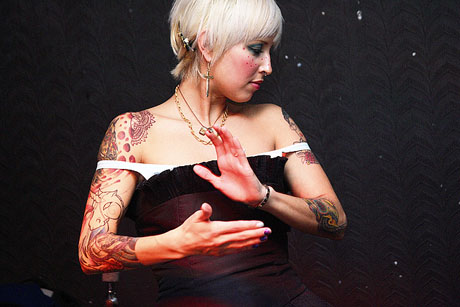 .
Must-hear Tilly songs:
* Night of the living dead
* You and I misbehaving
* Bad education
* A perfect fit
For more Tilly and the Wall:
* Stream some of their songs
* Watch Tilly videos
* Tilly on MySpace